Susan's Story: When I rejoined Grace and Strength Lifestyle it was my second time around. I lost 50 pounds the first time and like so many of us I thought I could manage it myself. I found myself eating past my personal boundaries and that vicious cycle started again. I would beg God to forgive me but instead of stopping the overeating I just kept on sinning. I rejoined Grace and Strength Lifestyle to help me gain control.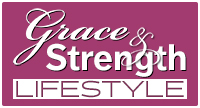 ---
Ready to Start Your Journey?
Are you ready to show YOURSELF some LOVE? Making your well being a priority is not about being selfish. This is about putting yourself first so that you can love and serve others well. We want to see you find wholeness, health, and freedom in every area of your life! We want you to love yourself!
If you are hesitating over a choice of a suitable program, check out how it works.
Learn More!