The Grace and Strength Lifestyle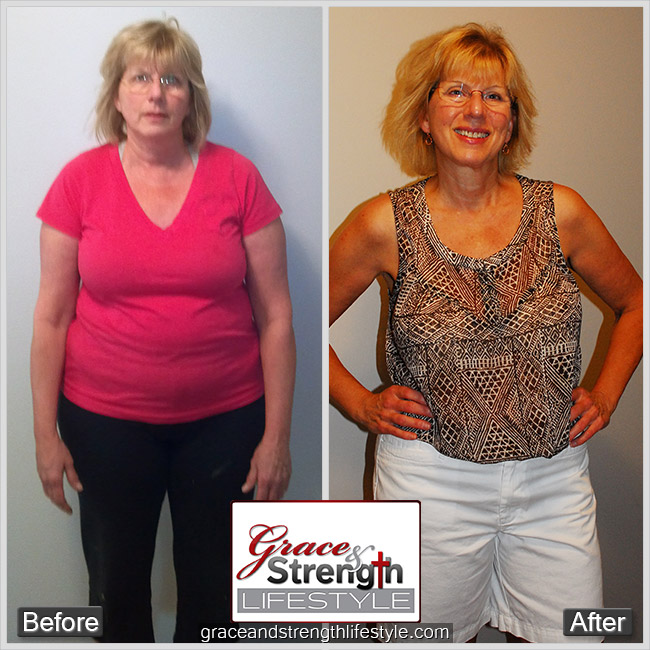 "A picture tells a thousand words". One glance at my "before" picture is enough to show anyone that I was one mighty frustrated and unhappy person. Over a period of years I had been slowly but surely gaining weight; five pounds here, two or three there, and yet I was able to look in the mirror and tell myself I didn't look all "that bad".
My clothes kept getting tighter, I found myself with fewer and fewer choices over what to wear when I did go out of the house, and yet I continued to lie to myself that it wasn't all "that bad", after all, it could be worse. I resisted having my picture taken, and when I was forced to be in a picture, I made sure that I was behind anything or anyone I could find to avoid getting caught straight on. Did it occur to me that maybe it really wasn't "that good" if I was hiding behind people? Sure, but it's easy to lie to yourself.
I realized one day that I was wasting my life not being happy with how I felt and how I looked; that I was not only depriving myself of joy, but everyone I loved was being deprived of being around a happy person as well. Having tried several diet plans over the years, I was extremely discouraged because I wanted to be able to eat real food, not some pre-packaged shakes or meals. I didn't want to have to go someplace and be measured and/or weighed, been there- and it was humiliating. Most of all, I wanted something that would work long term, something I could commit to for the rest of my life. I finally realized that this was going to have to be a total lifestyle change and that I had some significant learning to do, that enough was enough, no more excuses, no more lying to myself. The control food had on my life had to be broken so I could enjoy life (and food) without the cycle of guilt and disgust.
I've always been a Christian, but have to admit, hadn't been good about attending a church, nor allowing God to be much a part of my life on any regular basis. One night I was skimming the internet for programs when the thought passed through my mind, "I wonder if there are any plans for Christian women". Grace and Strength came up immediately on my computer and I began reading, and I liked what I read. Finally, here was a program that was going to make me accountable for my own actions, teach me discipline through God's word, let me eat real food, and give me a coach and a group of women that were in the same boat to rely on.
In my questionnaire for the program I wrote that I had entangled myself in a web of my own doing, and that I realized I was not only the spider, but that I was also the prey. Seeing my "before" picture was very difficult, because for the first time, I saw what others were seeing, not the lie that I convinced myself of in the mirror.
Has this program been easy? Some days yes, some days not so much. I found myself resisting along the way and I am sure that I challenged my coach, Monica. She likely earned a few "brownie points" from the Lord for taking me on, because I was pretty set in my ways and wanted this to work on my terms. I was uneasy at first with the online group, but soon learned to find the meetings helpful because it made me realize that these food struggles are universal and that I wasn't alone in this. This program has been incredibly transformative for me. The weight loss, ironically, has become a secondary part of what I have gained from this experience, one for which I am very grateful.
---
* Individual results may vary.
Ready to Start Your Journey?
Are you ready to show YOURSELF some LOVE? Making your well being a priority is not about being selfish. This is about putting yourself first so that you can love and serve others well. We want to see you find wholeness, health, and freedom in every area of your life! We want you to love yourself!
If you are hesitating over a choice of a suitable program, check out how it works.
Learn More!