The Grace and Strength Lifestyle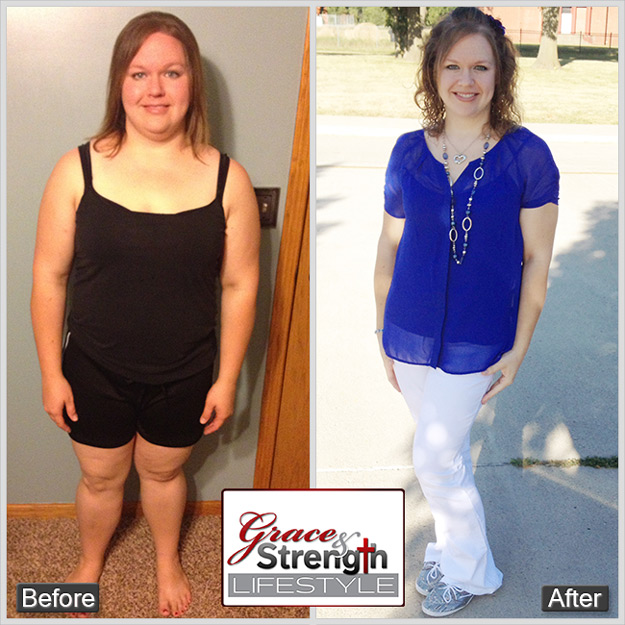 As I sit down to write this testimony about the last five months of my life I can't help but be in awe of how fast it seems to have gone. Although, while in the midst of it, there were days that I thought it would never end. I would have never dreamed that I would be the person who made a transformation like this, or who would be telling people the cliche "If I can do it, so can you!!!" I have never been the person to set a goal and stick to it. Perhaps it's because I'm not a very competitive person, or because I have a complete lack of self-discipline in most areas of my life, or perhaps it was just the fear of giving up the thing that I loved the most; food.
There were always countless excuses as to why I couldn't, or didn't need to, take any action in the area of my health. I would say things like "I've been heavier before.", "I've been overweight all my life. This is just how I'm built.", "My blood sugar and all those kind of numbers are just fine.", "Everyone else around me is my size or bigger.", "Rigo fell in love with me at this weight and loves me anyway.", "I don't binge like a maniac, we don't eat out all the time, I don't make much frozen or packaged food, and I cook fairly well and try to balance things. We are better off than most.", or "I had a rough day (or a great day...basically just insert ANY emotion here) I deserve a little treat!"
All these excuses and more would constantly consume my thoughts as soon as I would start feeling convicted about the way I was eating or taking care of my body. But God is so patient and kind. He continued to just send prompts here, a friend there, a message in this way and that way, and sometimes even bigger attempts at wake up calls. Slowly but surely it all started coming together in my mind. All the little things started to add up to an overwhelming desire for change. No, I didn't get diagnosed with diabetes yet (by the Grace of God), and no, we weren't at the point of needing to use infertility treatments again bc of my weight...yet. But I realized, why am I waiting for the worst case scenario to happen before I make a change?! Look at all the little signs and signals God IS showing me! They matter! More than just the physical promptings were the yearnings and desire to grow spiritually and be closer to God, who I knew wanted a deeper relationship with me. I've known him all my life, I've trusted him and prayed to him as long as I can remember. I wasn't going through a season of doubt. I wasn't struggling with my beliefs. I just knew I didn't have the closeness and dependency on Him that I should have had by that point in my life.
As all of these things started coming together in my mind early this spring I knew I wanted to make changes, but I had no idea what they would be. I have always been someone who refuses to do fad dieting, or even tried and true programs that I see other people using. Even when they're successful for a while, Those programs that people seem wildest about usually seem to be the ones I see people yo-yoing on the worst. I have no patients for that. I don't have the time or money to give for something that will only change my outside for a while. Waste.
When I came across a Facebook post from an old friend of mine proclaiming how God had been changing her from the inside out, and that she'd never felt closer in her relationship with God, my ears perked. When I saw her picture and saw the external benefits of what God was doing in her heart, my jaw dropped. I knew in that moment that was exactly what I wanted. I was being led to Grace and Strength! I didn't have a specific goal weight to get to. I didn't have a date I needed to be a certain size by. I just wanted to feel healthier and prouder if who I am in Christ and to develop a closer relationship with Him. I wanted Him to show me who he meant for me to be, what He intended for me to consume and why. I wanted to learn more about why I am addicted to food and why it had become an idol in my life. When I was finally honest with myself I knew that food had been in the wrong position for my entire life.
It took us a few months to be able to actually make the leap of faith financially to invest in my health this way. We knew we could not afford the program up front and that we would be paying it off for a while. But I also realized that was just one more excuse Satan wanted me to use to prevent me from making the changes I was convicted of needing to make. Taking that leap of faith was life changing. I understand now why Bekah always said the weight loss is just bonus.
Even though I started with that physical goal as one of my biggest priorities, I soon learned that the numbers on the scale were not what was bringing me joy. As my weight dropped faster than I could have imagined, and I started seeing numbers I hadn't seen since my early teens, I found that the weight didn't bring me the happiness and contentment. It was the assurances and joy I was receiving through Christ and His Word, and the comfort of knowing I was learning to replace my bad habits and addictions with God honoring replacements. It was also the sweet moments I was blessed to be able to have with countless women who's hearts were crying out for the same changes they saw God making in me. Those women drive me just as much as my own goals and health issues. The desire to see God glorified in their lives, and to see them get to take this journey too, that motivates me and keeps me accountable.
I have a long way to go still. My weight might be in the range I am comfortable staying in for the rest of my life right now, but it won't stay there without work and self discipline. The lack of self discipline that I struggled with before I started is still what I struggle with daily. But I have learned to recognize when I'm struggling and failing, I've learned the tools I need to use to escape temptation and change my situation and then most importantly to turn it over to my God. Not only a God who saves me for eternity, but one who saves me daily from the struggles and temptations I face.
Here are a few of the scriptures God used to change my heart during this journey:
Jeremiah 29:11 "for I know what the plans I have for you declares the Lord. plans to prosper you and not to harm you, plans to give you hope and a future."
I Corinthians 10:13 "no temptation has seized you except what is common to man. And God is faithful, he will not let you be tempted beyond what you can bear. But when you are tempted, he will also provide a way out so that you can stand up under it."
1 Corinthians 10:23 "everything is permissible, but not everything is beneficial. Everything is permissible, but not everything is constructive." -this was a big one for me at the beginning of the journey! While food in and of itself is not a sin, that does not mean that everything I was eating was beneficial! In fact, some days nothing I was eating was beneficial to my body! I had no justification for consuming it! Which led me to this verse,
1 Corinthians 10:31 "so whether you eat or drink or whatever you do, do it all for the glory of God." -I realized that my entire life I had never eaten or drank anything for God's glory, it was always to glorify myself and my selfish desires! Anytime I wanted something I would consume it or find a way to consume it as soon as possible. I had never denied myself anything because it was not beneficial. My eyes were opened to the reality that what I eat and drink matters spiritually as well as physically! God calls me to glorify him and I can't do that from an unhealthy destructive place! And finally, on those days where my heart was in shambles because of the effects of sin in this area of my life and the constant cravings and feelings of emptiness without food God led me to
2 Corinthians chapter 1. "The God of all comfort, who comforts us in our troubles, so that we can comfort those in any trouble with the comfort we ourselves have received from God. For just as the sufferings of Christ flow over into our lives, so also through Christ our comfort overflows. If we are distressed, it is for your comfort and salvation. If we are comforted, it is for your comfort which produces in you patient endurance of the same sufferings. And my hope for you is firm because we know that just as you share in our sufferings so also you share in our comfort.... But this happened that we might not rely on ourselves but on God who raises the dead. On him we have set our hope that he will continue to deliver us."
I was not going through this alone. On my own scale and in my own realm I was suffering! It is hard to let go of sin, especially the sin of addiction! It actually physically hurt some days! It made me feel shameful and embarrassed, desperate and lonely, ugly and worthless. This "suffering" is my flesh and desires being crucified. Just as He tells us to take up our cross daily and follow Him, letting go of foods I was craving was my cross in those moments! We need to die to ourselves and our temptations and embrace the pain and be frustrated by what sin does to our bodies. But I have the promise that as I walk through the sufferings, I will also walk in the comfort of Christ himself!
What an amazing thing to realize that just as my Savior suffered like I do, he is the one who my comfort should flow through! Not food or relationships or any other thing, but through him! I was going through this, in part, to learn more about him and what He desires to be in my life and that made it all worth it! He is the only one who can bring me comfort! There are so many more verses and so much more scripture that I could list. Without a doubt, or any hesitation, I know that God is the only thing that brought me through this and will continue to sustain me on this path.
Just because I have finished losing weight for now does not mean that my journey is over! It has just begun. I now have to figure out how to keep myself accountable rather than being accountable to a program. I have begun identifying the areas and items in which I struggle most and, with God's help, I'm formulating a plan to control them in my life! Of course I will still be able to enjoy things I used to enjoy, and I will still get to enjoy foods to celebrate on special occasions! The difference is that now I can see that food is not the only answer to every area in my life. I will just have to kept turning to Him for help to remember that!
Philippians 4:13 "I can do all things through Christ who gives me strength."
---
* Individual results may vary.
Ready to Start Your Journey?
Are you ready to show YOURSELF some LOVE? Making your well being a priority is not about being selfish. This is about putting yourself first so that you can love and serve others well. We want to see you find wholeness, health, and freedom in every area of your life! We want you to love yourself!
If you are hesitating over a choice of a suitable program, check out how it works.
Learn More!