The Grace and Strength Lifestyle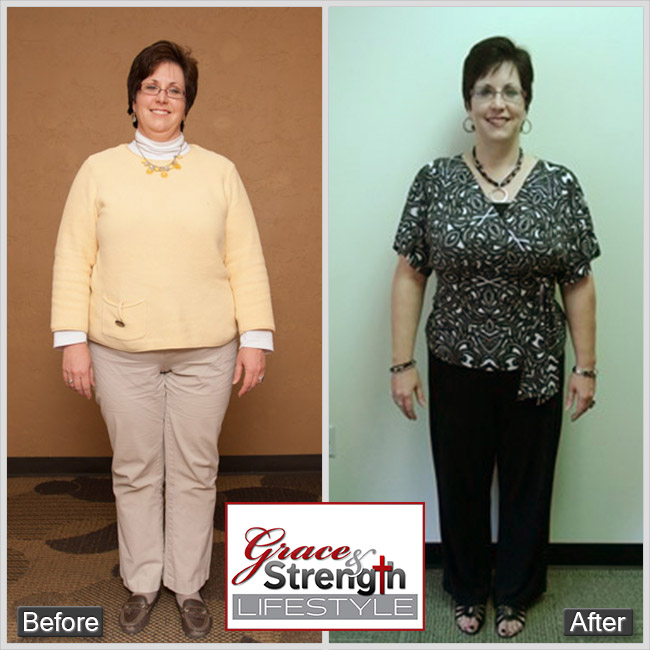 I know a lot of people are striving for a more "perfect" goal. But for me getting to 170, losing 50 pounds was exactly what I needed. I now weigh almost 40 less than I have weighed in over 15 years. This is a huge success for me. It was as much of a mental success as a physical one.
I have done other weight loss and exercise programs in the past, some with some limited initial success. And over the years I've learned a lot about nutrition, not just for weight loss specifically, but also for a continued healthy life. The problem with the other programs was that they focused strictly on the physical journey, not the real root of the problem - the one deep inside me that keep me from losing weight despite having all that knowledge.
Until Grace and Strength. There's a song by Brian Doerksen called Change me on the inside. Some of the lyrics go like this: "Every time I try to bring about change, I only touch the visible me. There's only one way I'm really going to change . . . Just like King David I cry out to You, create in me a clean heart. I've grieved You again. I need Your release from patterns that keep me in sin. There's only one way I can finally break free. Change me on the inside."
I was (still am) my own worst enemy (who knew that could be possible). While this is something that I definitely still struggle with, Grace and Strength, through Cyndi, Anna and the other women in my group helped me realize that I am too smart to be to be the only thing standing in my way.
They helped me face my inner "demons" so to speak. Helped me to push "me" out of the way so that God could change me on the inside. The change of the visible me was just a byproduct of the changes inside. Now I am working to hold myself to a standard of grace, not a standard of perfection that is set by the world around me.
I don't have to prove anything to anyone. I don't have to live in fear of what others might think or strive the approval of those around me. Grace and Strength helped show me some of the negative habits and thought patterns that were holding me back. This is something I think that all women struggle with, Christian or not.
I've learned I do not have to settle for less than I can be. I have a choice.
When Grace and Strength called and offered me an opportunity to see what they were about, I could have let the uniquely valuable opportunity pass me by. I am so glad that I chose to take this step.
---
* Individual results may vary.
Ready to Start Your Journey?
Are you ready to show YOURSELF some LOVE? Making your well being a priority is not about being selfish. This is about putting yourself first so that you can love and serve others well. We want to see you find wholeness, health, and freedom in every area of your life! We want you to love yourself!
If you are hesitating over a choice of a suitable program, check out how it works.
Learn More!