The Grace and Strength Lifestyle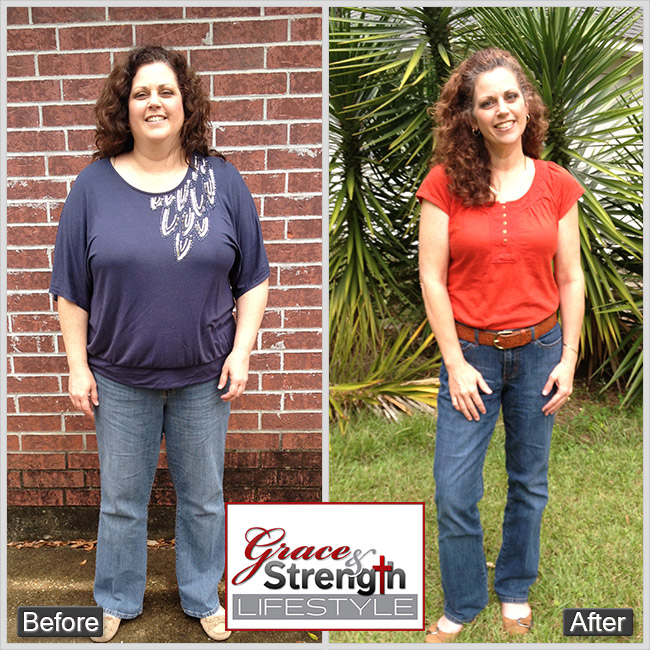 How does one deal with the daily stress of this thing called life? I don't believe there is a simple answer to this question, as everyone is different and will therefore have different ways of coping with stress. In June of 2001, my husband of 14 years and the father of my three children was taken from us in a very brutal way. So began my downward spiral, of which I would not be aware until much physical and emotional damage was done.
I have discovered about myself that I have two major ways in which I cope with stressful situations: avoidance and/or ultimate responsibility. If the stress is brought on by something that I do not want to have to deal with, I avoid it in hopes that if I wait long enough it will go away or fix itself. In the meantime, I preoccupy myself with other activities, thus providing the great excuse of "Can't you see that I just don't have time to deal with this"?
If the stress is brought on by something that I believe I can fix myself through hard work and perseverance, I take it on full speed ahead with no regard to my own health. Looking back, I realize that I used both of these coping mechanisms following the death of my husband and the subsequent change in my lifestyle as a result of this loss.
All of a sudden I had to face things that I had never had to deal with on my own, such as disciplining and raising the children, managing the finances, paying the bills, and maintaining the home. All of this was compounded by the fact that I chose to avoid grieving over this great loss, but yet my children needed to grieve. How do I comfort them when I am just not ready to deal with all of this?
To address my need for avoidance of this tragedy that had taken place, I made changes in an attempt to create a new environment and lifestyle. I sold my house, relocated to a different community, started a new job, remarried, all within one year.
Well, this definitely kept me busy! Of course, there was no way for me to deal with my grief because I just didn't have the time to do so. In the meantime, my children were suffering over all of this craziness and I just didn't know how to deal with that, so I plowed full speed ahead by accepting ultimate responsibility for the things that I believed could be alleviated through hard work.
I also attempted to buy some happiness and over the course of about six years I made several bad financial decisions with the culmination of the consequences bringing me to a place where I had to face my circumstances head on. Once again, I applied the "I'll fix it" attitude, thinking that surely if I worked long and hard enough I could resolve at least the financial issues.
In addition to my full time job as a teacher of veterinary students, I accepted work as an adjunct instructor at two community colleges. I also decided that I could increase my future worth by working toward a PhD part-time while maintaining my full-time job. At one point, I was working three jobs while taking classes and doing research.
During this time, I was leaving my house by at least 8:00 AM every morning and not getting home until after 9:00 PM four nights per week. I was also teaching a class on Saturday mornings and studying heavily during the evenings and on weekends in order to fulfill the requirements of the classes that I was myself taking as a graduate student.
In the meantime, the stress of not knowing how to fix things where my family was concerned and the resultant guilt was really dragging me down. The additional work that I had taken on had intensified things with my family even more. Inevitably, all of this worry, frustration, guilt, and excessive work took its toll on my health.
I began to have frequent migraine headaches and severe back issues to the point of heavy reliance upon pain medications, steroids, muscle relaxers, and sleep medications. It was during this time that I had two automobile accidents because I had fallen asleep at the wheel on two separate occasions during my one-hour long drive home from work.
Well, as anyone can guess, an over-worked, stressed, and guilt-ridden individual is going to exhibit outwardly the degree of their unhealthy state. For some, this is represented in the form of frailty; for others, this is represented in the form of obesity. I fell in the later category, where my weight had skyrocketed to a whopping 241 pounds!
Following the back surgery that I ultimately had to have, I began to become very concerned about my health. Yet again, I could fix this myself through hard work and perseverance! After four years of yo-yoing, I simply gave up and accepted defeat. My body had won this battle. Like the undisciplined teenager, my body was pushing its limits of defeat over me in so many other ways.
I began to feel unworthy, unaccepted, and incapable. The day of my final defense for my PhD should have been a proud one, but I was extremely concerned about the photographs that would ensue and the issue of what to wear. I shied away from participating in family pictures, I did not have the energy to get down and play with my grandchildren, I was uncomfortable and eventually stopped going anywhere, including church, that required wearing anything other than scrubs.
At my very lowest, I was extremely depressed, defeated, and questioning of my worth. After all, look at all of the work I had done, yet so many issues remained unfixed. This is when I finally cried out to God for help, along with the heart-felt admission that I can no longer do this on my own.
A couple of weeks following this plea, an acquaintance of mine on Facebook changed her profile picture and this really captured my attention. I had just seen her in person a few months earlier, yet her profile picture was reflective of at least a 50-pound drop in weight. This is when the stalker in me took over and I began to watch her Facebook activity very closely.
In addition to her own weight loss, her daughter was also appearing to master this unknown glorious technique of success in weight loss. I was too apprehensive to straight up ask what she was doing because when I had attempted this approach with others I would usually get the "For the cost of only an arm and leg per month…." or the "Just eat healthy, energy in must equal energy out" speeches.
Finally, one day this acquaintance posted a link to the Grace and Strength website because her daughter's testimony and inductance into Grace and Strength as a weight loss coach made front-page news on the site. For anyone who has ever been on the diet roller coaster intrigue rapidly breeds skepticism where new programs are concerned.
Needless to say, I exited the webpage rapidly when Mr. Skepticism presented himself. My frustration with life and my desperation continued to haunt me and I was very confused as to why God was ignoring me. Thoughts of the Grace and Strength program would periodically resurface and I would be drawn back to the website. I began to read more and more weight loss testimonies and started to see a commonality in all of them: the grace of God and a daily reliance upon His Word from which to draw strength.
Click! This was my missing factor. For so long I was relying upon my own strength in an attempt to resolve not only my weight issues, but every other factor in my life as well. God had been providing me with this message for months and I was just not seeing it. This is what makes this program unique. This is what makes this program so successful! Proverbs 3: 5-6 states the following: "Trust in the LORD with all your heart and lean not on your own understanding; in all your ways submit to Him, and He will make your paths straight."
Since joining the Grace and Strength program in February 2013, I have lost 97 pounds and a total of 72.5 inches.* This program offers both group and individual support. Coach Monica Hemming has been wonderful in her dedication to all of us through prayer, testimony, and preparation of weekly homework assignments.
I entered the program seeking knowledge on how to get my body back to normal and am graduating the program having learned what is necessary to get every aspect of my life in order. I still have a very long way to go in relinquishing my control of things, but praise God for this eye-opening experience and this lesson in humility. I can never establish my own worth through outward appearance, deeds, or education, for my worth has always been and will always be defined through Christ.
So, how does one deal with the daily stress of this thing called life? Turns out there is a common solution for everyone. Two of the apostles state that God comes to the aid of all who continuously seek His will: "Ask and it will be given to you; seek and you will find; knock and the door will be opened to you" (Matthew 7:7); "For everyone who asks receives; the one who seeks finds; and to the one who knocks, the door will be opened" (Luke 11:10). I believe that true freedom in life is found only when one makes a daily commitment to relinquish all control to Him and seek His guidance through prayer.
---
* Individual results may vary.
Ready to Start Your Journey?
Are you ready to show YOURSELF some LOVE? Making your well being a priority is not about being selfish. This is about putting yourself first so that you can love and serve others well. We want to see you find wholeness, health, and freedom in every area of your life! We want you to love yourself!
If you are hesitating over a choice of a suitable program, check out how it works.
Learn More!