The Grace and Strength Lifestyle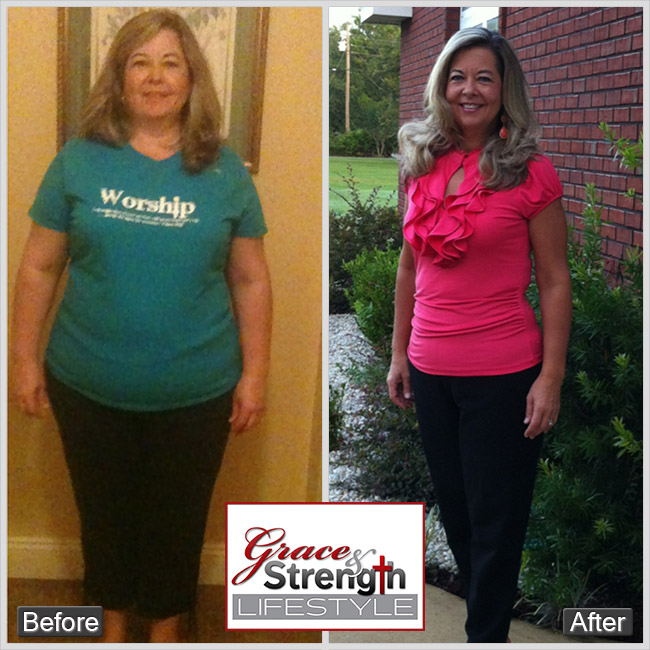 For Such A Time As This…..God brought me to the door of Grace and Strength Ministries. About 8 months prior to the start of this life changing journey, I began praying and asking God to please help me with my weight issues. I had tried many diets over the years, but none of those loses remained. I gained the weight back plus some. And then I saw my friend Monica on facebook. I began to watch for her next post showing her success. Then I finally sent her a message to find out how she was losing the weight. I could relate to her journey and began to think about it for myself. I would go the Grace and Strength website and read about other women whose lives had been changed and how their stories somehow hit home with me. I would read the testimonies and cry because I saw myself through the journey of others, but just wasn't ready. So I began asking God to please set me free from this bondage of food.
I began to realize more and more that I was relying on food in areas of my life that I needed to turn over to God. And then the day came when I said this is it. I am calling today. It was as if the Holy Spirit came upon me and enabled me to make this wonderful change in my life. Since beginning this journey, I have changed physically, spiritually and emotionally. I now have the ability to make healthy choices of food and not feel deprived. Before it was as if I would be denying myself something that in my mind I needed for emotional comfort. And I would give in every time. But Monica encouraged us in the Word Of God about the lies of the enemy. Using food instead of God for comfort was one of those lies he told me and I believed it. Through continuous sharing, even from other members of our group, I was encouraged to overcome.
We have all faced obstacles and have things in our past that we could allow to hold us back from breakthroughs in our life but God loves us so much that He chooses not to leave us there. I believe with all of my heart and soul that God heard my cries. "In my distress I called to the Lord, I cried to my God for help. From His temple He heard my voice; my cry came before Him, into His ears. He reached down on high and took hold of me; He drew me out of deep waters. He rescued me from my powerful enemy from my foes, who were too strong for me." Psalms 18:6, 16-17. I began to realize that I had a food addiction which was no different than any other addiction, and I knew I needed God's help to overcome and I turned it over to Him as I began Grace and Strength. I really had no idea how deep in bondage I was before this journey.
Towards the end of my journey my Mom said to me that when I walk into a room I walk with more confidence than before. This statement and other support that I received from her were very encouraging and helped to make this journey possible for me. And through the care and support of an incredible lifestyle coach, who I know prayed for me on a regular basis, I have been set FREE. This program is so much more than a weight loss program. My life will be forever changed because of this ministry. I am so thankful that Cyndi Benson said yes to the call of God on her life to help women become free from the bondage of food. I will now pay it forward and give God the Glory for the great things He has done for me through Grace and Strength.
---
* Individual results may vary.
Ready to Start Your Journey?
Are you ready to show YOURSELF some LOVE? Making your well being a priority is not about being selfish. This is about putting yourself first so that you can love and serve others well. We want to see you find wholeness, health, and freedom in every area of your life! We want you to love yourself!
If you are hesitating over a choice of a suitable program, check out how it works.
Learn More!