The Grace and Strength Lifestyle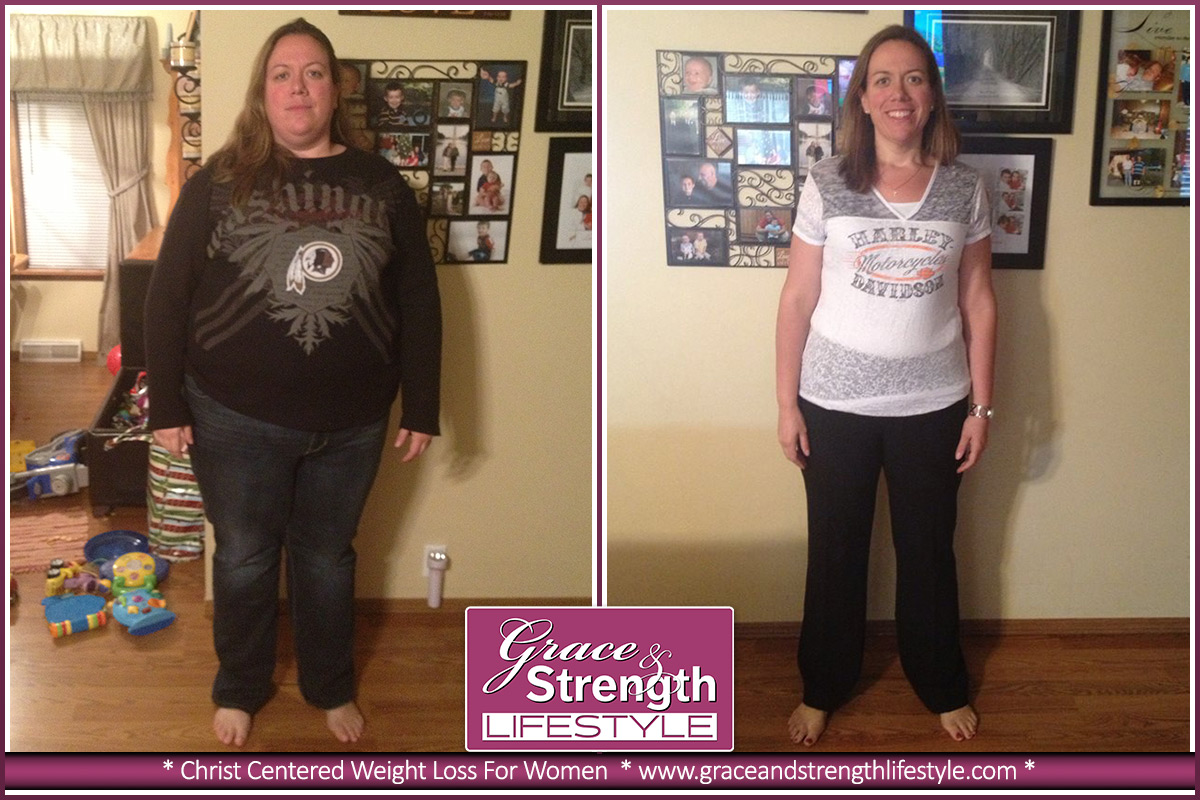 I am not 100% sure how to start my story...Like many of you I have always struggled with my weight, then at some point in my 30's I lost the struggle and things got out of control. I loved food and I loved eating, but I overindulged all the time. If I was happy, sad, stressed or bored I would find a reason to eat. I would stay up late and eat ice cream out of the container, pretending if no one saw me then it would be ok. I would eat an entire bag of pizza rolls as a snack and just never quite feel full. It was like I was a bottomless pit and no matter what I ate I could still find room for more. I saw myself just blowing up in size and I chose to ignore it. I avoided looking in the mirror and focused on my "pretty face". Every now and again I would break down, usually when I wanted to look cute and none of my clothes fit, I would just stand in the closet and cry and feel horrible about myself. If I saw a picture of myself, it was almost like I didn't even think that was really me...I was just "not photogenic". I had tried to lose weight countless times before and would succeed for a while and then simply go back to my old patterns. I was truly to a point where I had quit caring about my weight, I had a great family and a great job and plenty of friends who liked me, why deprive myself of eating when I loved it so much. I wanted to just embrace the fact I was fat and move on. I wanted to justify keeping my unhealthy and destructive habits because it was so easy to do it.
I am not really sure if anything would have changed for me, if one of my oldest and dearest friends hadn't completed the Grace and Strength program and successfully lost over 80 pounds. She was my college roommate and we had dieted throughout college together and we both always seemed to fall back to eating pizza and chips and everything we shouldn't. Seeing her before and after picture put a little voice in my head that was very quietly saying...maybe you can do this. It wasn't until I actually got to see and talk to her in person (we live 6 hours away from each other) that the voice got louder. I remember so clearly sitting in her family room and saying "I really don't even like vegetables...I can't possibly do this" and her response was "You can absolutely do this". Her confidence in me was staggering and it stuck with me. On the drive home I talked with my husband and decided that I was going to give them a call.
The first time I talked to someone from Grace and Strength I remember being embarrassed to tell them how much weight I had to lose. The number seemed so astronomical, like it was an impossible goal. Then they told me that they felt I could have that much weight off in 9 months. I was very skeptical, how could the weight possibly come off that fast. During this first conversation they also spoke about group and how the groups would help us stay strong through prayer. To be honest, I was not the most religious of people. I was someone who tried to live a moral life and believed that there was a God and attended church every now and then...in my head I thought, I can handle them talking religious, but that part really isn't for me.
I was very determined to start things off right and as I followed protocol and saw weight literally dropping off it was so encouraging. I had never lost so much weight so fast. My first month I lost 35 pounds and felt amazing. I went to group every week and the ladies that were in my group were the best. I was so inspired and impressed with the strength of all these women. My coach Millicent would talk about emotional eating and I would feel like she was speaking right to me. Group kept me motivated and I don't think I missed one single group for about the first 6 months and I have only missed 3 total. Group was the highlight of my week. During those groups an amazing thing started happening. I started feeling like I wasn't just conquering my addiction to food, but that I was building a relationship with Jesus. This was something very new to me. As my journey progressed I had such determination and strength, like I had never had before and I really couldn't understand why this time was so much different until I accepted the fact that Jesus was the one guiding me. I knew then that I was going through a spiritual transformation as well as a physical one.
On my 34th birthday, exactly 8 months and 5 days after starting, I went from 349.8 to 199.8 a total of 140 pounds lost. I know to some of you, just being under 200 pounds might not seem like a success story...but to me it truly has changed my world. I never wanted to be super skinny, I just wanted to feel "normal". Now, I am able to shop at regular clothing stores and find clothes that fit. I can fit comfortably into seats at the movies or concerts and I do not have to risk the embarrassment of being too fat to do anything. Those physical changes are amazing, but that is not truly the greatest success I have achieved in these 8 months. The greatest success and what I am most proud of is that I have come to a place in my life that I have fully accepted Jesus in my heart. My family and I have started attending church regularly and seeing the positive effects this has had on my husband and children is so much more exciting then the weight loss could ever be.
On August 18th, right around the time I move to phase 4, I will be getting baptized for the first time. This will be such a big day for me and make me feel like my journey is complete. I know that food will always be a temptation to me and I will have to battle harder some days then others to not let the demons of the past come back to haunt me...but, what Grace and Strength has taught me most is that through prayer or the Facebook page (lol); you should never try to fight the demons alone!
---
* Individual results may vary.
Ready to Start Your Journey?
Are you ready to show YOURSELF some LOVE? Making your well being a priority is not about being selfish. This is about putting yourself first so that you can love and serve others well. We want to see you find wholeness, health, and freedom in every area of your life! We want you to love yourself!
If you are hesitating over a choice of a suitable program, check out how it works.
Learn More!