The Grace and Strength Lifestyle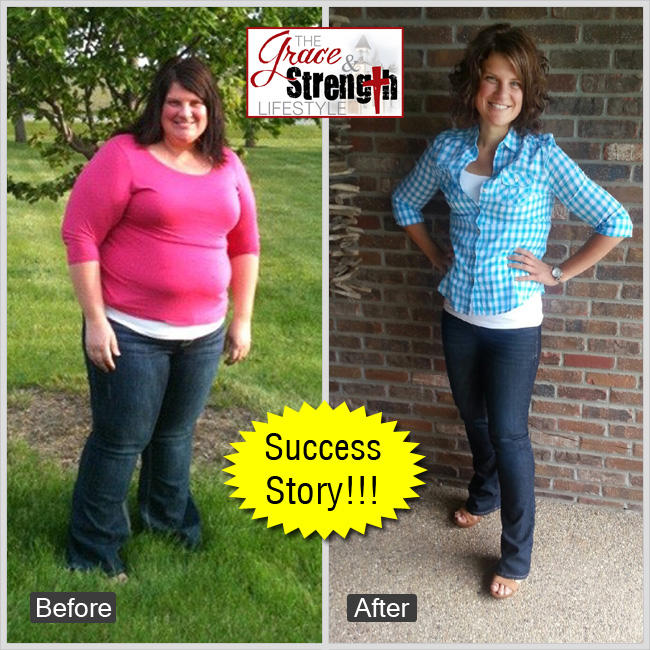 Emily and her sister Katie have both absolutely rocked their journey to weight loss freedom with the Grace and strength lifestyle. In Today's post, we share incredible before and after pictures and her inspiring story.
---
Emily's Story:
Wow. As I write this testimony the words nearly fail me. I cannot even begin to describe the transformation that God has worked in my life through the Grace and Strength Program and losing weight. It took me approximately 1 year to lose nearly half of my body size and go from a size 22/24 to a 4/6. Tears come to my eyes as I write 4/6.* I never thought I would be that girl, the one who could lose weight and be successful. I was born with chubby thighs and thought that they would remain with me. Until now, I have always been the chubby girl (of course the one with a beautiful face), the one who used humor as a defense mechanism and allowed other people to make fun of my size because I was light hearted and carefree.
I spent my entire life locked in a prison of unconscious eating and denial. I had tried several different types of diets, only to lose 10 to 15 pounds and give up. I lived in a cage of fear of failure. The rejection that came from failing yet another diet was worse than my obesity; so eventually, I stopped trying to lose weight and told myself that I didn't care. The worst realization came to me when I felt conviction that I was not being a good steward with the body that I had been given. I was lost, locked in a trap of bondage and idolatry to food. I know that this is something we don't like to talk about as Christians today, like being overweight and overindulging is the "excusable sin." Yes, I looked at my obesity and disordered eating as sin. It hindered me from so many blessings (mission trips, speaking, relationships, etc.) and the devil saw my vulnerability and attacked with might. I worshiped at the altar of food and I knew that would lead to more destruction than the number of pounds I weighed.
True to His promises, our God is faithful, merciful, and His love is steadfast; He did not leave me in the pit. He saw me, knew me, and redeemed me. All glory goes to Him for my weight loss. From the very first phone call to the Grace and Strength Program, something was different. Cyndi answered the phone at 6:00 AM, (this was after me crying and pleading with Jesus for a change for weeks) which is a rarity. Her compassion and Christ centered approach to weight loss drew me in. God amazingly worked out all of the details and I was able to join the program along with my sister Katie. Katie has been an amazing support through this journey with her own amazing story and weight loss! Cyndi set me up to be with Coach Anna. This woman has seen me in my good, bad, ugly, and uglier. Her attitude and determination has encouraged me every step of the way, Thanks Coach!!
I don't even know what else to include in my testimony except that the benefits of losing weight are greater than I ever expected. Don't get me wrong. This has been the hardest, most challenging thing I have ever done. I was stretched and grown in ways I never thought possible. I have faced anxiety and fear, but God has replaced them with peace and grace. Physical benefits to losing weight are amazing: I no longer fear sitting in lecture hall chairs because I won't fit, I can go to Six Flags and ride any ride I so choose, I don't hide when I see a camera and clothes shopping is amazing!! I know that I am healthy and that I am being a good steward with this one body God has given me. Freedom from bondage and idolatry to food has been the biggest reward of all. I still face challenges and am learning how to eat with this new body. The scale cannot be a measure of my worth (this is something I am still learning). Mentally, physically, and spiritually, I am a different person than I was a year ago. Every day I pray for grace. And every day God provides! I have lost over 140 pounds and am abundantly blessed. Thanks to Grace and Strength for all of their efforts and making this possible, and praise Jesus for His transforming power!
You can now see her sister Katie's pictures and story here!
---
---
* Individual results may vary.
Ready to Start Your Journey?
Are you ready to show YOURSELF some LOVE? Making your well being a priority is not about being selfish. This is about putting yourself first so that you can love and serve others well. We want to see you find wholeness, health, and freedom in every area of your life! We want you to love yourself!
If you are hesitating over a choice of a suitable program, check out how it works.
Learn More!