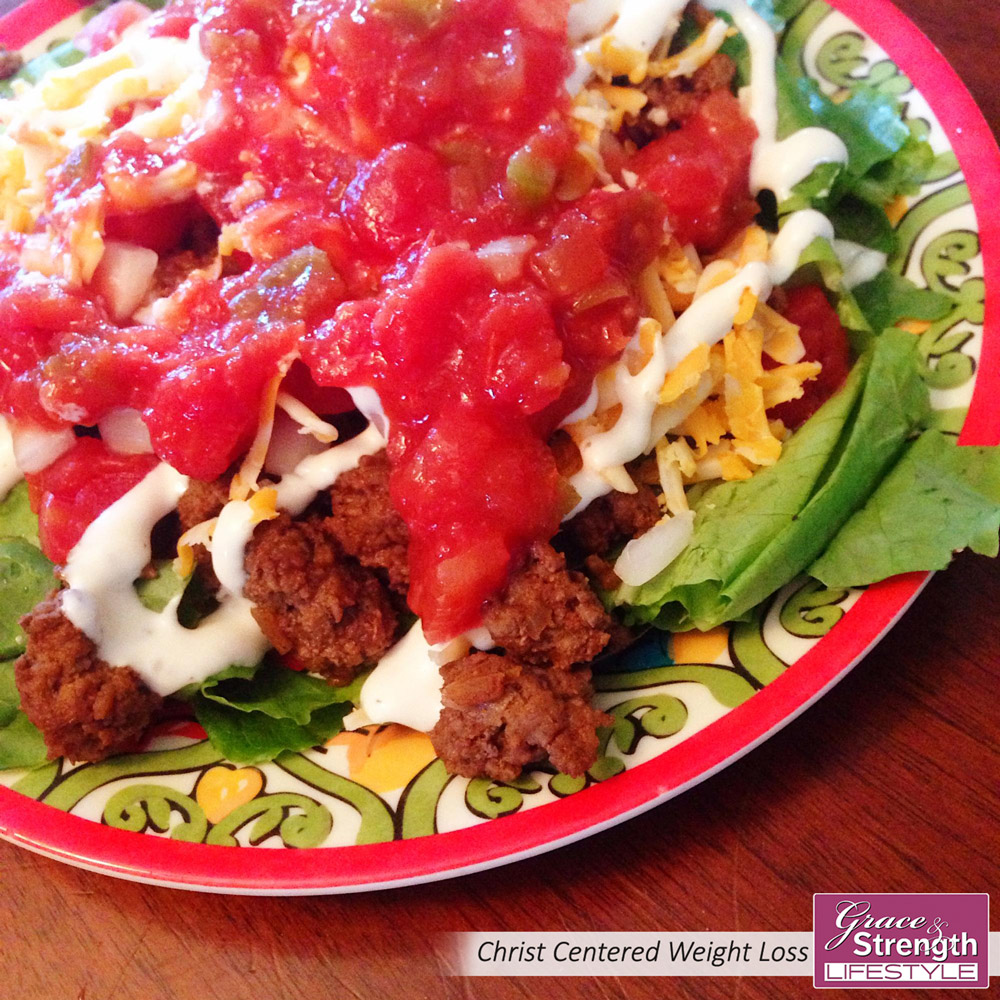 I want to tell you a little about this Taco Salad. This is my Go-To I-Want-To-Be-Satisfied-On-Healthy-Food Meal! This is so simple... (hence the name Simple Taco Salad). You simply need to start with meat. I prefer beef because I think it is divine, but use whatever meat you want: Chicken, Beef, Shrimp, Turkey, Tofu (although I don't consider this a meat ... and I don't know what it would taste like) ... whatever your heart desires.
THE KEY IS THE TACO SEASONING! I am going to give you my all-time best taco seasoning recipe in the world that I make once a year and store so that I always have it available for such a time as this ... when I'm hungry. So you will get TWO yummy recipes in one today!
---
Coach Jillynn's Taco Seasoning:
Prep Time 5 Minutes
Instructions:
Mix and store in pantry in a super cute glass jar ??
It's that easy!
Ingredients:
½ c. Chili Powder
¼ c. Onion Powder
? c. Cumin
1 Tbsp. Garlic Powder
1 Tbsp. Paprika
1 Tbsp. Sea Salt
---
The great thing about this salad is you can make it as BIG as you want, depending on how hungry you are!! If you are REALLY hungry, maybe crunch up a few Organic Tortilla chips to give it a little crunch. ;-) Enjoy!
Coach Jillynn's Healthy Taco Recipe:
Prep Time 5 Minutes
Instructions:
Get your favorite decorative plate, and pile on a healthy portion.
Again, it's that easy!
Ingredients:
Lettuce: (Romaine is healthier than Iceberg)
Onion
Tomato
?- ¼ c. Shredded Cheddar Cheese
2-3 Tbsp. Salsa
2 Tbsp. Greek Yogurt (I PROMISE… this is a GREAT substitute for Sour Cream… and has protein ;-)
½-1 c. Prepared taco meat
---
* Individual results may vary.
Ready to Start Your Journey?
Are you ready to show YOURSELF some LOVE? Making your well being a priority is not about being selfish. This is about putting yourself first so that you can love and serve others well. We want to see you find wholeness, health, and freedom in every area of your life! We want you to love yourself!
If you are hesitating over a choice of a suitable program, check out how it works.
Learn More!