As we continue in our series 8 Easy Tips For Keeping Your Holidays Healthy, we understand that nearly everyone reading these posts are going to sit down somewhere for Thanksgiving and Christmas dinner. We also know that there are a few dishes that traditionally 'need' to be prepared and feasted on during those meals.
With that in mind, we've decided to give you some more options by coming up with our own list of 'Ten Healthier Alternatives To Holiday Favorites'. We've traversed the web, dug through piles of spam, and found ten healthier alternatives to some of the most popular dishes we prepare during the holidays.
Disclaimer: The key word here is 'Healthier'. It doesn't mean that these dishes will help you lose weight, or even that they're the right dish for those of you active in the weight loss journey right now. What it does mean though is that when prepared with healthy ingredients, these dishes are definitely better choices!
---
The List of Our Ten Favorites
---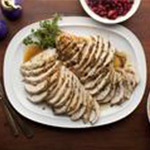 Healthier Herb Roasted Turkey Breast
Starting right off with the big one, from Ina Garten, here's a much healthier alternative to a bird that's been deep fried or drowned in butter by an over zealous baster.
---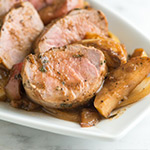 Healthier Roasted Pork Tenderloin with Apples
For those of you who prefer the honey baked flavor of a Christmas ham to that of a turkey, here's a healthier alternative that doesn't skimp on flavor.
---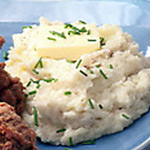 Healthier Mock Garlic Mashed Potatoes
Few holiday meals would be complete without a large bowl of mashed potatoes. Unfortunately, there aren't many foods out there loaded with more carbs and fats than those potatoes. Here's a great healthier alternative.
---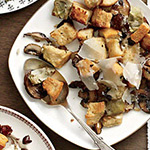 Healthier Mushroom Artichoke Stuffing
Avoiding the regular vs cornbread debate entirely, there's just no way to get around some type of bread in stuffing. However, if you can't do without it, here's a version that's not only healthier, but also pretty classy too.
---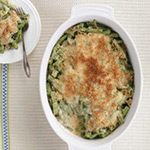 Healthier and Easy Green Bean Casserole
To some, it's the best part of a holiday meal, to others it's like the annoying uncle that just has to be invited. Here's a great version that holds onto tradition without holding onto the artery cloggging ingredients.
---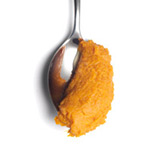 Healthier Chili Spiced Mashed Sweet Potatoes
This healthier alternative to the classic sweet potatoes sleeping under a blanket of marshmallows has a spicy kick to it that is sure to please all those fortunate enough to find it at their holiday table.
---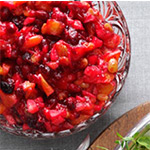 Healthier Cranberry Medley
Not only is this holiday cranberry medley healthier and awesome, it completely crushes the alternative glob of red jello that plops out of a can at most Christmas dinners.
---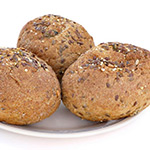 Healthier Holiday Dinner Rolls
When you're trying to lose weight, bread is pretty much off limits, but when and if you chose to bring it back to the table, here's a healthier alternative to traditional holiday dinner rolls.
---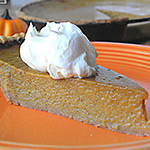 Healthier Pumpkin Pie Recipe
You probably thought it was impossible to find a healthier low calorie low sugar alternative to pumpkin pie, and it almost was... but here it is - a healthier version of pumpkin pie!
---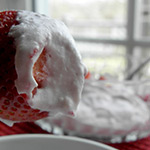 Healthier Dairy Free Whipped Cream
Topping off the meal, pun intended, is a dairy free stevia sweetened coconut whipped cream recipe. Probably won't make it into many weight loss menus, but it is still a much healthier alternative to traditional whipped cream.
---
Now Share Yours!
We'd love to hear what you're doing to put a healthier twist on some of your family's holiday favorites.
---
* Individual results may vary.
Ready to Start Your Journey?
Are you ready to show YOURSELF some LOVE? Making your well being a priority is not about being selfish. This is about putting yourself first so that you can love and serve others well. We want to see you find wholeness, health, and freedom in every area of your life! We want you to love yourself!
If you are hesitating over a choice of a suitable program, check out how it works.
Learn More!