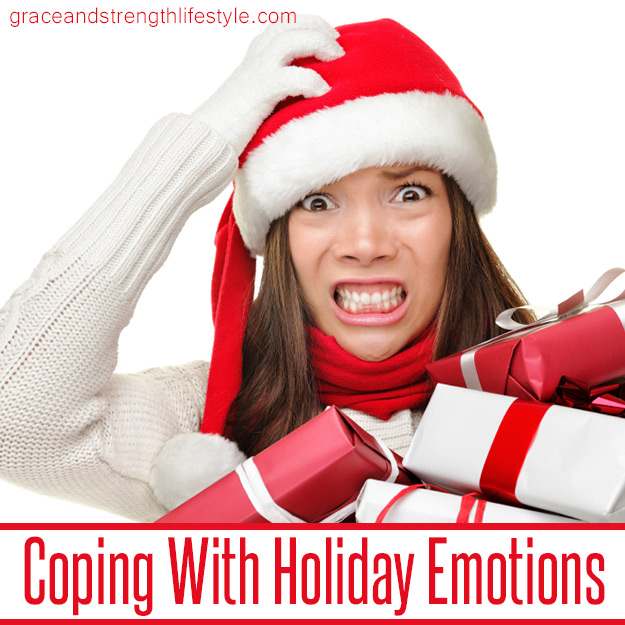 Ah, the holidays. It's the most wonderful time of the year, or so the song goes. Christmas is to be a time of joy and reflection, but for many, this time can also open up many wounds and feelings of sadness, unmet expectations, stresses, and pressures that can rob us of the healthy decisions we've made over the last year. You may be grieving over the loss of a loved one or maybe it is the hardships that can arise within family, maybe it is the stress over finances or even the inward struggle of a society indulged with entitlement.
Coping with holiday emotions is difficult for most people, and for many, the holidays can bring a sense of fear, that despite our best intentions, enable us to make unhealthy choices from Thanksgiving to New Year's that will in turn leave us empty and full of regret.
I believe we can all be successful at overcoming the indulgent, emotional over eating that tends to accompany the holidays with these feelings. And have victory to accomplish these goal. Here are a few helpful tips as we embark on this season.
What Is Emotional Eating?
First of all, it is important to recognize what is emotional eating, and be able to identify the issues within us that trigger these emotional impulses.
The holidays in and of themselves bring a flooding of emotions. We could be experiencing feelings ranging from grief and stress to hope and excitement and everything in between, sometimes even at the same time.
Researchers believe emotional eating stems from a desire to turn to food in order to numb emotions that are too painful to process. This mindless cycle can cause us to end up in front of the fridge and not even know how we got there. While the temporary escape and euphoria from indulging alleviates that pain, the danger is that these feelings are very temporary and addicting. As a result, we have a tendency to look to food as comfort to get us through the holidays.
Preventing Emotional Eating
Now that we have identified emotional eating we can begin to put safe guards in place.
Self care is of the utmost importance during the holiday season. You will be bombarded with work parties, community programs, family events and that's not to mention all the activities your children are involved in. Take some time for yourself. The temptation is to believe that this is being selfish, this is furthest from the truth and is a lie that the enemy will use every time.
You cannot give from an empty well. You want to give out of the overflow. So, don't give in to the pressure to over schedule. Write out a list of the things that are most important to you this season (relationships, not food) and organize your schedule around those things. Continually remind yourself that these are the most important things. This will help combat those feelings of stress and inadequacy that will creep up in all the hustle and bustle.
Why do we celebrate Christmas in the first place? We worship the One who came not just to forgive our shortcomings but to remove all the guilt and the shame we have a tendency to lay on ourselves. It is of utmost importance to provide yourself a place of rest so you can give out of wholeness to those you love the most.
In addition to self care, planning ahead is vitally important to overcome emotional stresses that can lead to over indulging during the holidays. Having a plan for your outings will also give you confidence as you make good choices. Some practical tips include:
- drink plenty of water. Thirst is often mistaken for hunger. Before you grab that brownie, ask yourself if you are really hungry or just thirsty.
- set a budget and stick to it. Finances can be a major source of stress during the holidays. Don't give in to the notion that the individuals you are buying gifts for are deciding how much you love them based on the quality or quantity of gifts given.
- also, have a plan for what you're going to eat if you're going to be out shopping over meal times. Pack healthy snacks and fill your water bottle when you are on the go.
- if you are going to a holiday party, take a healthy snack to share, or even eat beforehand to help you avoid the temptations.
Emotions Will Arise This Holiday Season
Emotions will arise during this season, but you were created to be set free. And even though this season may be difficult there are ways to not only survive but strive this holiday season.
No matter what emotions are evoked within your heart this Christmas, know that you are loved by your Creator and that He is WITH you~ "Emmanuel, God with us." He will give you the strength you need to make good healthy choices, not live in regret, but with joyous expectation this holiday season.
---
* Individual results may vary.
Ready to Start Your Journey?
Are you ready to show YOURSELF some LOVE? Making your well being a priority is not about being selfish. This is about putting yourself first so that you can love and serve others well. We want to see you find wholeness, health, and freedom in every area of your life! We want you to love yourself!
If you are hesitating over a choice of a suitable program, check out how it works.
Learn More!