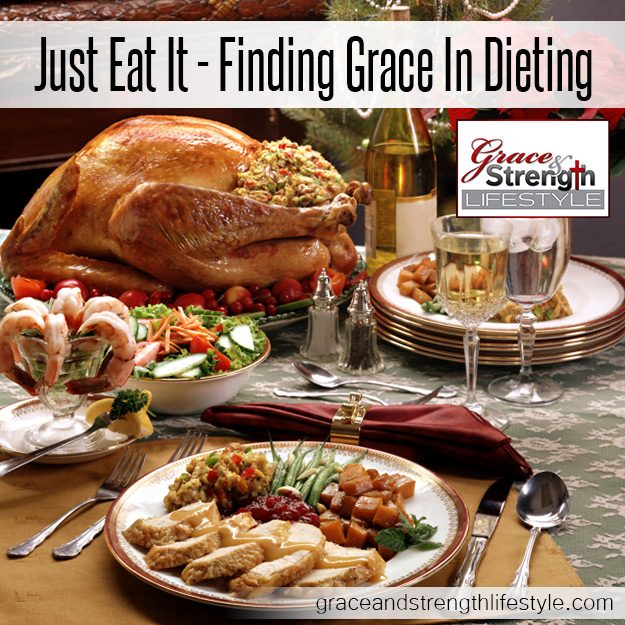 Something tells me that when Weird Al reworked Michael Jackson's hit song into the the "Eat It" parody, he never in a million years imagined that we'd be borrowing the chorus line For a Christian Blog Post about dieting. After all, most of us reading this post have at one time or another fully embraced the "Just Eat It" philosophy. We did like the Cap'n Crunch and Raisin Bran. We got our dessert because we finished our plate.
The whole reason we are dieting is so that we can stop eating it, so why on earth would we be writing a post titled, "Just Eat it - Finding Grace In Dieting". After all, isn't it a crime of epic moral proportions even to suggest eating something like ham or pumpkin pie to a person who is trying to lose weight?!? Perhaps not...
Why Our Clients Lose Weight So Fast
If you're familiar with our program, you understand that our clients lose weight, and they lose it fast. We've seen many clients lose as much as 30 pounds or more in a single month. It doesn't happen all the time, but it's not uncommon either.
One of the reasons that this is possible is the extreme discipline that they embrace. Through some deep soul searching, prayer, and a lot of encouragement and instruction from our lifestyle coaches, we find that our clients are able to conquer the strangle hold of food temptations completely. When this happens, weight loss is inevitable because the root cause has been dealt with.
Similarities Between Dieting and Our Christian Walk
I always find it interesting how many similarities there are between dieting and our overall Christian walk. Dieting, at least from the Grace and Strength Lifestyle perspective, is about conquering our flesh nature and embracing a fuller life of health and purpose unhindered by the obstacles introduced when we overindulge our appetites.
Because they conquer these desires at the core, many of our clients who are in the midst of their weight loss journey, simply keep right on course throughout Thanksgiving and Christmas without deviating from their routine in the slightest, and we applaud them each!
Is There Room For Grace In Your Diet Plan
In a perfect world, we would come together with our families and friends during the holidays to celebrate each other and the gifts that our extravagantly generous God has blessed us with. Many times in scripture, God told His people to come together for times of feasts. Some were moments of somber contemplation, others were joyous celebrations of the life and freedom they enjoyed as His children.
As we continue to place food in it's proper place within our lives, we can embrace it with thankfulness and happiness without seeking emotional or spiritual satisfaction through gratifying our flesh. And as our attitude and heart towards food change, we also embrace a greater strength and a healthier mindset towards eating.
Is there room for some grace in your diet plan this Thanksgiving or Christmas? That depends, and there's really no way that we can answer that question for you. Here are some questions you can ask yourself that may bring a little clarity?
When I am sad, lonely, angry, or frustrated do I still find myself wanting to turn to food for comfort?
Last time I ate something that wasn't a part of my weight loss plan, did I overindulge and binge?
Do I still spend a lot of my time thinking about and imagining satisfying my food cravings with unhealthy foods?
When someone offers me food that I know is unhealthy for me, is it difficult to say no?
These are just some simple questions, but if you answered yes to more than one of them, then there's a good probability that you're still working to conquer the food craving monster, and you should probably talk to your lifestyle coach before doing anything crazy this holiday season. If you don't have a lifestyle coach, we recommend our program! We also recommend spending some time in prayer and devotion and sincerely asking God to reveal your attitude and heart to food.
How To Indulge Without Over Indulging
Maybe your dear grandmother has spent hours baking you her world famous apple pie, which she knows is your all time favorite dish ever, and she will be deeply hurt if you simply give it the cold shoulder. Maybe you've decided that this is a once a year event, and you're going to simply celebrate life, family, and the gift of food in your life. Whatever the case, if you decide to 'break protocol' this holiday season, these are a few steps you can take to make it more manageable.
Here's what we recommend:
First of all, eating one meal is a lot different than spending the entire weekend binging on leftovers and 2nd and 3rd helpings. Pick one meal, and no more.
Second, portions still matter. Part of maturing in your approach to food is understanding when to stop. Eat slowly, drink lots of fluids while you eat, and stop when you're satisfied, not when you're about to pop.
Third, check your attitude. As you sit down to eat, don't rush through your memorized little 'bless the food' prayer. Take a minute and sincerely thank God for all that He has given you, and then ask Him to help you be a good steward of those blessings.
Lastly, be ready for your flesh to wake back up and ask for more. Ironically, the flesh is never ever satisfied by indulging it's desires. In fact, the more we indulge them, the greater the cravings become.
If you do decide to embrace a little grace this holiday season, make sure to set clear boundaries and lean heavily on the strength of prayer and accountability.
~May God richly bless you and your family with an abundance of His infinite grace and strength this holiday season!
---
* Individual results may vary.
Ready to Start Your Journey?
Are you ready to show YOURSELF some LOVE? Making your well being a priority is not about being selfish. This is about putting yourself first so that you can love and serve others well. We want to see you find wholeness, health, and freedom in every area of your life! We want you to love yourself!
If you are hesitating over a choice of a suitable program, check out how it works.
Learn More!