The Grace and Strength Lifestyle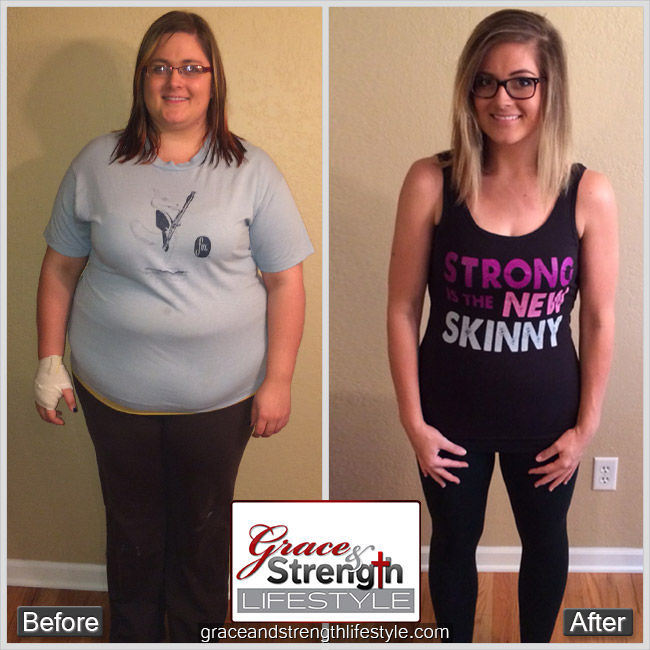 2 1/2 YEAR UPDATE: In the two and a half years since graduating from this program I have been learning what it means to maintain a healthy lifestyle. The journey is truly never "finished", and each day has to be a conscious decision to make good choices. This program gives you the practical tools and as well as points you to the ultimate source of support in that quest: The Lord. - Michelle
Sometimes when we post our client success stories, it seems like we need to put in here the disclaimer that these aren't doctored up Photoshopped versions designed to make it look like they lost a bunch of weight. ...because they aren't! These success stories are real people making real changes and experiencing real transformation through God's grace and strength.
Today we're celebrating Michelle. Your transformation is remarkable, and your story is going to impact the lives of many. Thank you for allowing us to be a part of your journey!
---
Michelle's Story - In Her Own Words
A little over a year ago, I sat in a friend's kitchen listening to her talk about her journey with the Grace and Strength program. At this point in my life, I'd wasted countless dollars on countless diets, always failing, and always gaining back more than I'd lost. It had taken just one short year for me to gain back the weight I'd lost before my wedding. The scale reflected a number higher than Id ever seen before, and I was defeated believing the lie that I'd never gain control of my life or health. I'd been the big girl my whole life. While those who loved me would tell me that I was 'beautiful', this wasn't a statement I could believe myself. As my friend shared with me how God was changing her heart toward food, I only half listened, thinking 'well, that's all good for YOU, but it's not something that would work for me'. When she finished, I was shocked at how strict her lifestyle and food choices were during this program. She'd talked about going through this season of sacrifice out of her commitment to the Lord to change the bondage she'd let food have in her life. My response:
"I don't know how you're doing this. I could never do it; I love food too much!"
Her reply, 9 words long, cut me like the sharpest knife, straight to my soul, and caused an awakening within me that lead me to involve the Lord in my health for the first time in my life: "That's the problem," she humbly said. "I loved food TOO much."
Her words caused me to think long and hard. I LOVED food. I loved food more than anything else in my entire life, and I'd never realized it. Most importantly, I loved food more than I loved God. I let food control me, ruin my body, and keep me from serving and loving in ways that the Lord was calling me to. By not recognizing the idol food had become in my life, I had blinded myself to the detrimental effects it was having in every area of my life.
On December 13, 2013, I started the hardest, yet most exciting experience I've had in my entire 29 years. You'd think that the theme of this journey on Grace and Strength would be "loss", having lost 150 pounds. However, ironically enough, GAIN has been my journey's theme. I didn't lose anything on this journey. I GAINED the perspective, tools, and relationship with the Lord that I never imagined he intended for me. My obedience to the Lord is what I've gained here. The loss, as the GNS ladies so frequently say, was just a bonus.
I've learned more about food, sin, & myself in the past year than I ever have before. The result hasn't made me perfect. It hasn't allowed me to have everything all figured out. More importantly, it's brought me to a place of humble submission where I can now see that on my own, I stand no chance in honoring the Lord and his temple-my body-with the choices I make. Left to my own devices, I will fail miserably every time. I've proved that almost daily for the bulk of my life. MY self-control got me to 318 pounds…
But by resting in Christ's strength, I can do ANYTHING (Phil 4:13), including live in freedom toward food – freedom to say yes, and freedom to say no, and to do all things for the glory of GOD. The freedom I was seeking during this journey was not just about food (although at the start, that's what I would have guess was the point). More so, the freedom I was seeking was about physical and mental endurance, and obedience to the Lord's calling. It was about breaking idols, running back to the Lord (or, in several areas of my life, running TO him for the very first time), and doing some major soul-surgery that would uncover so many areas where I had opportunity for spiritual growth. I am left speechless at the blessings God has poured out on my through this journey. If I had a million pages and unlimited time I could not begin to capture the things that God has allowed me to experience, accomplish, see, and do during this phase of 'turning around' -the relationships alone are nothing short of priceless. None of these things have been deserved – an even greater testament to how loving and AWE-some our Lord is. Why wouldn't I commit my life's journey to him in thanksgiving for all he provides?
This journey ended up having so very little to do with food, and everything to do with exposing all the corners of my life where I just needed to let the Lord IN. This journey has taught me that his POWER is made perfect in my weakness (2Cor 12:9). I am left in tears each time I sit in reflection of what the Lord has done this past year. It's a beautiful experience so complex and immense that it's difficult to do it justice and put into words. When people ask me what I did, and how I did it, my prayer is that I would always respond in praise to my Lord for his work in my life, not my own. My encouragement remains the following 2 passages of scripture, and I hope they bless others as greatly as they've blessed me:
"If then you have been raised with Christ, seek the things that are above, where Christ is, seated at the right hand of God. 2 Set your minds on things that are above, not on things that are on earth. 3 For you have died, and your life is hidden with Christ in God. 4 When Christ who is your life appears, then you also will appear with him in glory (Colossians 3:1-4)".
"For those who live according to the flesh set their minds on the things of the flesh, but those who live according to the Spirit set their minds on the things of the Spirit. 6 For to set the mind on the flesh is death, but to set the mind on the Spirit is life and peace (Romans 8: 5&6)".
---
* Individual results may vary.
Ready to Start Your Journey?
Are you ready to show YOURSELF some LOVE? Making your well being a priority is not about being selfish. This is about putting yourself first so that you can love and serve others well. We want to see you find wholeness, health, and freedom in every area of your life! We want you to love yourself!
If you are hesitating over a choice of a suitable program, check out how it works.
Learn More!