The Grace and Strength Lifestyle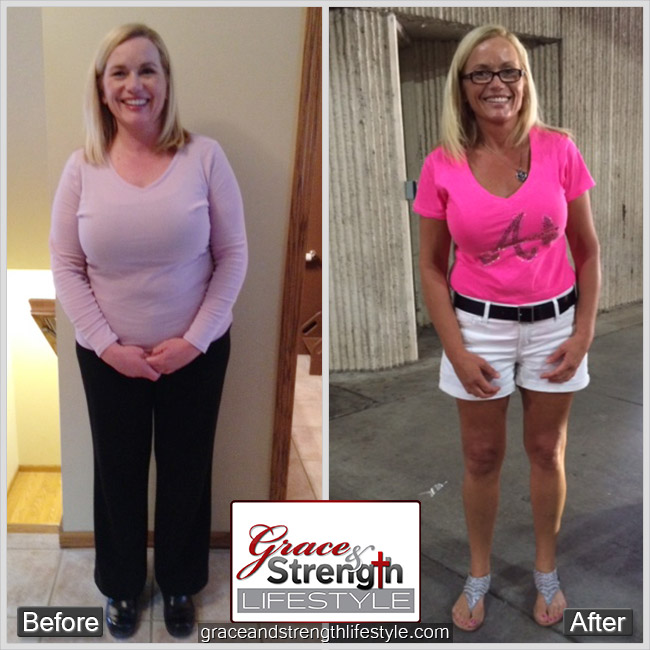 When God brought me to Grace and Strength, I was starved to death. I was so broken hearted as a result of my divorce that my walk with God ended. God did not quit walking but I did. I spent many days and even more nights face down on my bedroom closet floor in despair (I could feel the carpet fibers in my nose). Even with that inconsolable heartache, I always found my way to the kitchen or through the drive thru. I ate through the hurt because I was so empty, so hungry for relief, so desperate for feeling that I just wanted to feel full. I ate through the misery until I was miserable. I hated myself for eating and yet I ate. Everything about me was alive but my spirit was dead. I had starved it to death.
Because God is so merciful, He reached out to me through my treasured friend Tami. He reached out to me to comfort me, to restore me, to bring me back to my feet so that I could walk with Him again. He called me to let go of my food worship and to give Him back His rightful place in my life. Through sound biblical coaching and fellowship, I began to gain while I lost. I gained hope, I gained spiritual strength, I gained knowledge and I lost 44 pounds.
Grace and Strength is a place where I continue to learn about my heart issues that cause me to seek food when I should seek God. It is not a diet or a list of good and bad food. It is a shelter in my ongoing addiction to food. It is a place where I can rest and confess and be refueled.
I will never feel unprepared for the hurt that this world may bring again. I will never have to face it alone. Through Grace and Strength, I have gained friendships that will last into eternity. I have gained the tools to honor my body with wise food choices that are pleasing to God no matter what the enemy brings and I have regained my spirit. The joy of losing weight is minimal when I count all the blessing that I have gained.
---
* Individual results may vary.
Ready to Start Your Journey?
Are you ready to show YOURSELF some LOVE? Making your well being a priority is not about being selfish. This is about putting yourself first so that you can love and serve others well. We want to see you find wholeness, health, and freedom in every area of your life! We want you to love yourself!
If you are hesitating over a choice of a suitable program, check out how it works.
Learn More!